This winter I've been on an obsessive record collecting spree.
There's a couple of really good record stores near my house. I'm particularly loving 'The Music Jungle' on High Street, Thornbury. It runs a nice mix between the rare and the bargain box, meaning while you're buying your collectables you can pick up a bunch of cheap stuff for shits and giggles. It's incredibly fun digging through the bins for the GOLD. Or the Fool's Gold, depending on how you look at it. Consequently I'm not listening to much 'new' new music at the moment, but rather building my vinyl collection with some quality purchases and spending time re-listening to some old classics.
The difference in sound quality between MP3s and vinyl is astounding and inspiring. If you have the same recording in digital and vinyl playing simultaneously and you switch them on an amp, even the untutored ear can appreciate the difference. The sheer breadth in the range of sound is breath-taking.
Number 1 on the list has been the recent reissue of the seminal punk album by Refused, "The Shape of Punk to Come":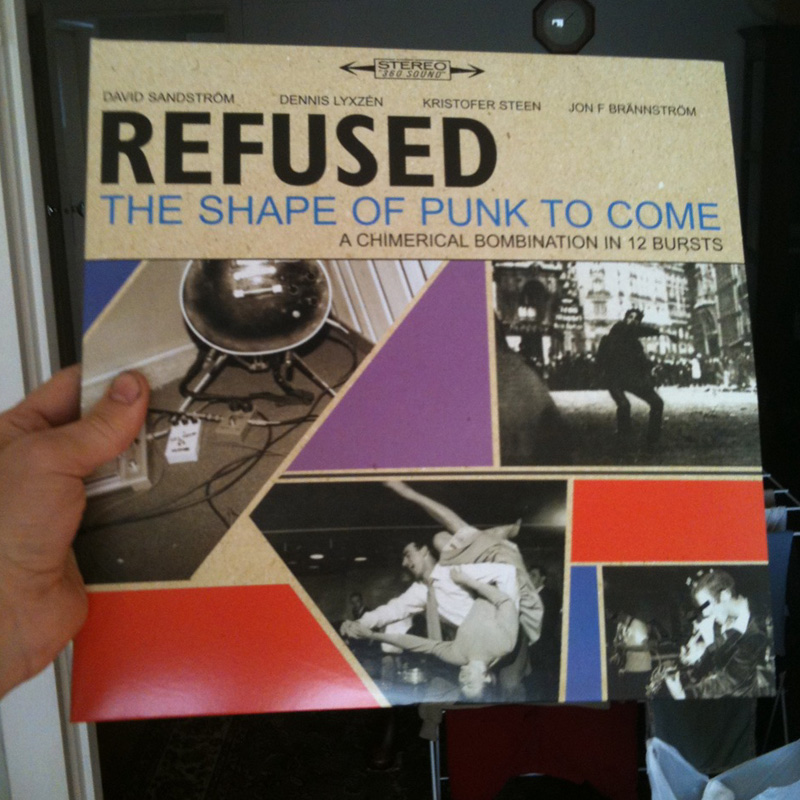 This album blows me away every time I listen to it. It's a fucking amazing punk/hardcore record, and the vinyl version really brings out the dynamic aspects of the recording. The reissue is pretty great in itself with extra tracks and an excellent dvd documentary on the breakdown/break-up of the band, but just hearing this recording in it's full glory is worth it alone.
It's daggy, but I picked up Tears For Fears's "Songs From The Big Chair" for a few bucks and have been really digging it. It has a couple of amazing tracks from my 80s youth including 'Shout', which sounds fantastic in the bigger space. I also got some vintage Bowie and rediscovered my love of his work and the care he put into production. You can really hear the funk guitar that holds a lot of his 70s stuff together.
I've been learning that all vinyl isn't created equal. Last week I was excited to pick up "Dynasty", which was the first KISS album I ever owned. I was really psyched to get it but my adult ears told me pretty quickly that it's not a good recording. In fact, it's pretty shitty and disappointing. Still, '2000 Man' is a very cool track that still sounds great, so that's a win.
The minute I crack out of this nostalgia/audiophile 'groove' and start listening to some new stuff, I'll let you know.