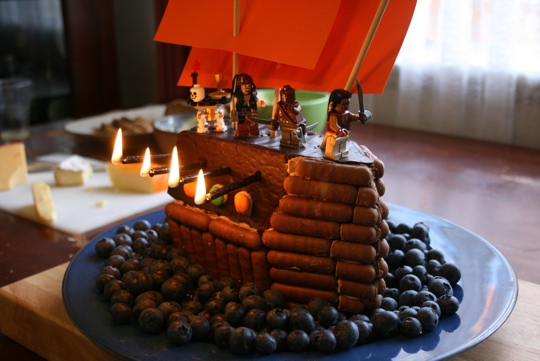 My oldest boy Ned turned four recently. We had a pirate party: pirate ship cake, treasure hunt, chocolate gold coins. The whole deal. The sun shone, the people came, cake was eaten, balloons were popped. It was pretty great.
But this isn't a story about kids' birthday parties. It's about how much babies suck, and it's about pay-off.
My friends Ross & Alex have just had a baby, their first. Paddy is a sweet, wee, helpless thing who sleeps and feeds and squirms. They hold him and dote on him and they love him dearly but, like every parent before them, they are cleary freaked-out, exhausted and over their heads. I look at them and I know exactly what they're feeling. And little flashbacks of horror shudder through me.
When I think back on my own boys as infants I die a little. The uncertainty and the lack of knowing, the constant panic and stress and questioning: am I doing this right? Will I get any sleep at all tonight? The sleep-deprivation is crushing – there's a reason the CIA uses this as a torture method. And there's shortness of temper, the lack of routine, the constant feeling of not getting any of the stuff you need yourself. Horrid and shitful, and it lasts for about a year. I desperately love my kids and I would have five more in a second if they came as toddlers, but there's no way I could go through having an infant again.
The pay-off, though, is when all that shit is done, and the kids are good-to-go. Things get great. If you're lucky enough, a four year-old is a self-reliant, happy kid who doesn't need help to urinate, tells you when they're hungry, knows when they're tired, and is capable of doing most of the other things helpful autonomous humans can do.
I'm sure the good-to-go state is all the more enjoyable because of what you've gone through to get there, the knowledge you're earned. But, by necessity, you can't have that knowledge till later. You have to go through the shitty bit to get to that learning. And for anyone who hasn't done it and thinks they might like to: good luck to you, and I'll see you on the other side for pizza and tickle-fights.
Okay, a little on the party. What I didn't anticipate was the sheer fun we'd have in planning in the days before. On the Saturday night Helen stayed up to assemble the freaking amazing cake while I drew all the clues and maps for the treasure hunt. We blew up balloons and planned how we'd spend the time with the kids, keeping them occupied and being inclusive and having fun. And running the games was hilarious. I'm not sure how much a bunch of sugared-up four year-olds really understand, but when you say 'Quick! Let's run!', they run.
Also, in case you couldn't guess: when you're controlling the music in 'pass the parcel', it's a total power-trip. Watching the kids look at you with baleful eyes as they slo-o-o-owly hand the parcel on to the next kid, willing you desperately to hit the button, is hilarious. I now more fully understand peoples' naked craving of power and control. A person could get used to that.