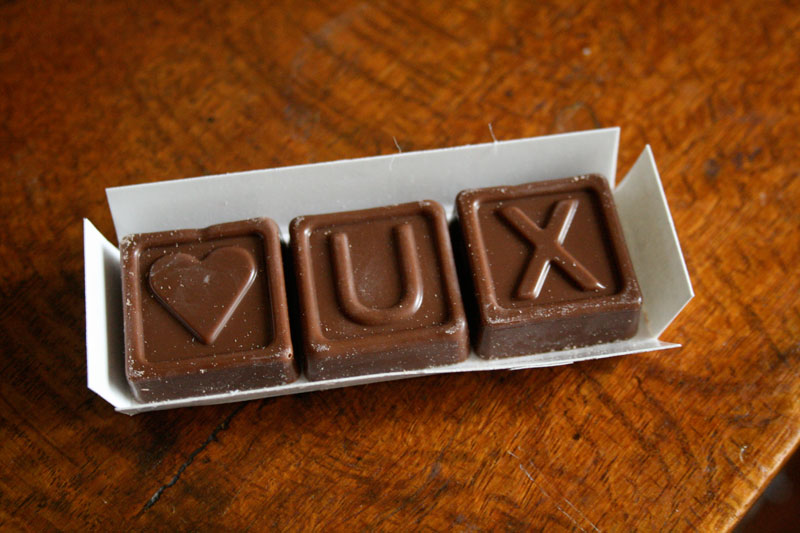 For the second year in a row the UX Australia Conference blew my tiny mind. Or rather, opened and expanded it pleasantly.
It is brilliant to get together with your peers and share knowledge and stories. The wealth of people doing different work for all kinds of organisations gathered in one place to share their experiences feels like a ridiculously rich gift. There's such terrific diversity in the ways and environments people are practising good user experience design, and so much to learn about. It makes for a very healthy and diverse group to share with and be a part of.
The danger of design conferences – or maybe it's a really good thing? – is that the talks can often get too elliptical, too abstract. So much thinking and dreamy 'perfect-world' practice but no grounding in the day to day realities of business, with all the gated departments and impossible sign-offs and commercial decisions that need to be made. I've not found this to be the case with the UX Australia conferences I've attended. Plenty of case studies and examples of where great design has been made to flourish.
This year I heard great people talk about ideas and experiences from within the web and mobile industry, but I also spent some time going to the sessions from people who are working in very different areas. Check out the full run-down of speakers at the conference – I got something good from every presentation I saw.
Leif Roy from the usability group Optimal Usability gave a fascinating presentation on user testing that was done on Air New Zealand's 'Skycouch' program. The testing involved building a replica passenger plane and having actors simulate long-haul flights so testers could see how the various chair designs performed. Incredible verisimilitude was strived for and the results were rich enough to make credible decisions for the product.
Of particular interest for me this year in terms of my own work was 1) how UX works with business to get better buy-in and 2) how UX manages to see beyond segments and devices and to look instead at the user touch points. EG, somebody who shops these days does their looking/research across a number of devices during the purchase cycle.
This is where Samantha Starmer's talk on designing for cross-channel experiences resonated for me. The idea that a customer's experience crosses all the touch-points and lays across all the channels of contact – including in the physical shop – is something that more and more businesses are becoming aware of. Designing for that context, and designing well, is key for successfully delivering on your commitment to better connect with your customer.
The stand-out time for me was the workshop with Jon Kolko. His workshop on where design ideas come from was a knock-out. Great ideas about design synthesis delivered in a workable language and mode of practice, with some practical methodologies to help you along. I really got a lot out of that.
Jon spoke to the broader Conference, too, and in that presentation gave plenty of real-world examples of practitioners he'd taught who'd gone on to lead extraordinary and successful design initiatives in all kinds of challenging contexts. Inspiring stuff, and focussed in the doable.
I gave a ten minute talk called 'The Good Kind Of Wrong'. It went well. People said nice things, liked my data, laughed where I wanted them to. It's the most you can hope for, I think.
My head is still buzzing from the conference. That curious mixture of intellectual stimulation, exhilarating ideas and the excitement of taking it all in. If I can roll even a little of what I've learned into my daily practice I'll be a better designer, that much is obvious.
Looking forward to next year's conference and, hopefully, all the good design I'll get to practice between now and then.